Reviews for "It Ain't Easy" 2016
Blues Blast Magazine 12/2016
Reviewed by Rhys Williams
The front cover of "It Ain't Easy" features an atmospheric black and white photo of Chicago's Sears Tower at night, together with the "Big Dog Mercer" logo and the legend "Chicago Blues And Rock" and this an album for which the phrase "it does what it says on the tin" could have been coined. It Ain't Easy comprises 10 great blues or blues-rock songs, played with serious attitude and skill that instantly transports the listener to a darkened Windy City bar. Although this is a studio album, it has enough rough edges to suggest that it could have been recorded live (albeit with some double tracking for the guitars).
Even the track listing on the album suggests a live set, opening with three classic blues tracks to entice the audience in before moving seamlessly to Mercer's own songs. The choices also indicate a total confidence in the band's abilities. Opening with Robert Johnson's "Walkin' Blues" could be seen as slightly hackneyed but Mercer's threatening, slashing slide guitar and the irresistible groove of bassist Matt Cartwright and drummer Kenny "Beedy Eyes" Smith provides an indelible flow and pulse. Likewise, the second track, Wolf's classic "300 Lbs Of Joy", is wholly owned by the 6' 10", 300+lb Mercer. The third track is Chess session ace Gene Barge's less well known but wonderfully funky "Me & My Woman".
Mercer is backed by two different rhythm sections on "It Ain't Easy" with Cartwright and Smith on half the songs and Mike Boyle on bass and D. Bernal on drums on the other five (with Jeff "Wally" Walroth adding piano to "Blue # 44"). Both trios rock like men possessed.
Mercer plays slide guitar with a ferocious attitude. On "Revelation", the opening lick hints of Son House before erupting into a rock chorus that wouldn't be out of place on an early Deep Purple album. The wonderfully titled "The Truth About Your Friends… Unfortunately" sounds like an updated "Rollin' And Tumblin'". Indeed, the pace and intensity of the album are unrelenting, with only the country-rock-ish "One For Gabby" stepping off the metaphorical pedal. Even "Canadian Sunset" (played here as an instrumental) has a tension and vigour one would not usually find in a jazz standard.
Mercer successfully treads that delicate line between blues and blues-rock. "Blues # 44" sounds like a modern-day Howlin' Wolf track with its combination of electric instrumentation and a song structure that hints of both Chicago and Mississippi. The title track sits comfortably in the rock genre but features a beautiful slide solo. "I'm Not A Good Man" has echoes of Dickie Betts-era Allman Brothers both in the chord structure and the major pentatonic guitar melody.
If you like your Chicago blues played hard and in your face (and, let's face it, who doesn't?), you will enjoy It Ain't Easy. Mercer and Kenny Smith as co-producers deserve special credit for capturing such a sparkling sound on the recording.
Very impressive.
---
Chicago Blues Guide 9/13/16
Review by Greg Easterling
You have to love a guy who airmails a good-natured kiss-off to a former employer in the credits to his new album. Singer-guitarist Marty "Big Dog" Mercer is such an individual. He's the kind of working-class blues man likely to be found playing weekends at hardcore blues lovers joints like the Harlem Avenue Lounge in Berwyn.
 
Mercer's 2016 indie release, It Ain't Easy, is a highly listenable album's worth of "Chicago Blues and Rock" as plainly printed in blue on the front cover of the CD beneath a black and white photo of the Windy City skyline. There's no truth in advertising issue here. Big Dog plays slide guitar with a vengeance and his bluesy vocals are very effective as well.
 
It Ain't Easy kicks off with a three-song sequence of Chicago related blues numbers, the first two of which are bonafide classics. This trio of tunes serves as a strong positioning statement just in case there's any question about Mercer's influences or intent. Big Dog leads with Robert Johnson's "Walkin' Blues", the oft-covered standard that traces its blues blood all the way back to the Mississippi crossroads. Rock and Roll Hall of Famer and local blues legend Paul Butterfield recorded it for his second album, East-West with Mike Bloomfield and Elvin Bishop. Mercer's compelling arrangement with plenty of good slide guitar action is a great way to begin the proceedings here.
 
Big Dog is a large man physically (6'10", 300 lbs.) so his choice of Willie Dixon's "300 Pounds of Heavenly Joy" is more than appropriate, plus Mercer definitely has the voice and musical muscle to pull it off. It's reminiscent of the much missed Big Twist and the Mellow Fellows (RIP Larry Nolan and Pete Special) who also recorded this blues classic. As the song goes, "This is it, look what you get!".
 
"Me and My Woman" is the third blues cover, written by onetime Chess session ace, Gene "Daddy G" Barge, who also played with Big Twist. Big Dog sings and solos well on this track, confiding, "we don't get along but one day at a time." The only complaint here is a small one; the song fades out too early.
 
Next, Mercer slows it down with nice original "One for Gabby." The guitar licks are sweet and the mood melancholy at times as Big Dog's slide comes close to the sound of steel you might hear on a country record. He sings, "Blow wind blow, that's the only thing gonna set me free."  It's the sort of feeling that comes from the heart.
 
Big Dog heads another direction with "Canadian Sunset," a vintage easy listening 
favorite. It's a classic instrumental that was once rearranged by Muscle Shoals session guitarist Pete Carr. Mercer brings a hip jazzy blues sensibility to this onetime middle-of-the-road standard that you might have heard on The Lawrence Welk Show decades ago. It's also a reminder to keep an open mind about so-called genres and styles, as Mercer obviously does.
 
The tempo picks up with the next track, "The Truth About Your Friends…Unfortunately." You can depend on Big Dog for an unbridled assessment of the situation with a set of particularly personal lyrics about relationships.

Another original, "Revelation" follows with a literal thunderclap sound effect and comes off as something of a blues march musically while lyrically making numerous allusions to its near-namesake, the book of apocalypse and prophecy at the end of The Bible with references to "seven seals" and "seven deadly sins." This blend of classic literature with the blues makes Big Dog much more than a one trick pony, while he tears it up on slide guitar again with plenty of tasty licks.
 
Mercer saves the title cut, "It Ain't Easy," until the album's eighth track. The song works on any number of levels and it's a good name for Big Dog's album because it couldn't have been easy for him to pursue his musical dreams while working a day job and trying to survive financially. It's hard to make it these days especially when more modern styles and ways of acquiring music often overshadow the roots of the blues and more traditional ways of performance.
 
"Blues # 44," in which Mercer spins off the Howlin' Wolf classic "Forty Four," is one of the most cleverly written songs on the album although the story is deadly serious. Big Dog uses the number 44 to represent the protagonist's age at a crucial moment in his life. It's also the calibre of the pistol he used and the time remaining on his prison sentence. The album closes with a blues confession of sorts, "I'm Not a Good Man." It's not a boast but instead a blunt admission of humanity. "I'm not a strong man but I never said I was." Mercer's Allman Brothers-style guitar sound here reminds one of Dickey Betts, which also distinguishes the album's final track.
 
Marty "Big Dog" Mercer released his first recording, Swamp Boogie, back in 2003 and was recognized as "King of the Blues" in a competition sponsored by the Joliet Guitar Center several years later! Big Dog has also received honours from organizations such as the Muddy Waters Chicago Blues Slide Guitar Championship, Chicago SuburbaNites Magazine, the Chicago Blues Challenge at the Chicago Blues Festival, the Joliet and Chicago Blues Hall of Fame, and the Kankakee Valley Music Awards.
 
Along the way, Mercer has managed to release three more albums prior to his fourth, It Ain't Easy. Mercer co-produced with Grammy Award-winning drummer Kenny "Beedy Eyes" Smith who also drummed on the album. Kudos also go to Mike Boyle and Matt Cartwright on bass, D. Bernal (also on drums along with Smith), and Jeff Walroth on piano. The album was recorded at The Spot Studio.
 
It's back to the album credits for a final word. Big Dog sends these dedications out to his brothers: "To Matt, you never told me I can't" and "To Mike, for telling me you'll never be as good as Jimmy Page, so why bother?" In this life, you need to be loved but also challenged to make it. It sounds like Big Dog Mercer got the right mix from his family because as we know, It Ain't Easy!

Greg Easterling is the host of the 12 midnight – 5 a.m. shift on WDRV (97.1 FM)
Also American Backroads on WDCB (90.9 FM), Thursdays 9-10 p.m.
Reviews for "Big Dog" Mercer 2011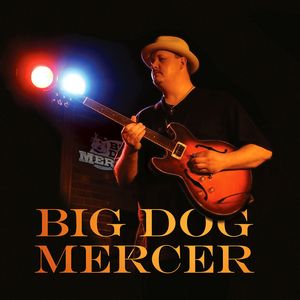 "Big Dog Mercer"
Thanks to my editor Karen, I had the opportunity to listen to a nice stack of new promo material.
This CD grabbed me on the first listen and wouldn't let go.
In this day of mostly faceless, talent-challenged pretenders,
it's nice to know that there are still real artists working their butts off hoping for some exposure and maybe even a big break.
With the release of the self-titled Big Dog Mercer, the Joliet-based southpaw guitarist and blues shouter presents an album of powerful vocals
and fiery guitar and slide work. Clean and focused riffs over a gr€at rhythm section and excellent keyboard work by Bobby Scumaci give these guys a
tight, cohesive sound.
"Big Dog" Mercer (AKA Marty Mercer) has spent the last ten years prowling and growling his way through the tough Chicago blues scene.
At first, the Big Dog started showing up at local jam nights at bars.
His incendiary original style earned him a rabid following, and soon the word spread on the street about the big man from Joliet Jake's hometown.
This is Big Dog's third full-length album, and he knows how to open with a wild burst of energy and some excellent guitar work on "Big Dog Blues,"
an autobiographical story of how Big Dog got his nickname.
Some nice touches of
humor
to the lyrics, also. Next comes one of Big Dog's most angry: hard-hitting songs called "Some Other Fool."
The first time I heard this song I was hooked. The man plays every note with so much passion and style.
Big Dog credits blues legend Lonnie Brooks for teaching him to play every note, In every song, like it might be his last.
Another powerful tale follows with "Drinkin' Blues," where Big Dog expresses the pain and hard dues he paid during his drinking days.
Thankfully he listened to the "lil voice inside his head" and got off his self-destructive path and wrote some real smokin' blues about it.
On "Big Dog Will Treat You Right" we are treated to some awesome slide licks. One of my
favorites
from the album, though, is "Stickin' Pins Into Me."
Danger and evil come in many forms, and here Big Dog wonders if some woman is using a Voodoo doll on him because it keeps hurting like hell over and over.
Great blues song!
Big Dog and his band have shared the stage with blues superstars such as Kim Wilson and The Fabulous T-Birds, Lonnie and Ronnie Baker Brooks,
Larry McCray, Billy Branch & S.O.B's, Mud Morganfield,  and many others.
All of them are quick to shower praise and respect on the burly Bluesman.
Big Dog likes to quote the old blues adage, "The musician doesn't pick the blues, the blues
picks
the musician." Big Dog captures the
soul of what real blues is about.
Whether it's the growl in his big voice or the nasty, aggressive slide licks he tosses around like candy, I've found this is one
Big Dog you should adopt and take home with you.
Like the man said: "Big Dog Will Treat You Right
–
Bruce Weber. Missippi Valley Blues Society
Oct. 2012
---
       
Blues Blast Magazine Featured Blues Review
Reviewer Steve Jones president of the Crossroads Blues Society
      
One of the fun things about reviewing music is that you get a lot of stuff from guys and gals you have never heard of to review. On the surface that could sound like it was a bad thing. What I have found is that more often than not it is a local artist who is working their craft, trying to get some exposure. For good, bad or indifferent, I have also found that there are a lot of pretty damn good guitar players, musicians and singers out there and some of them can write pretty good original songs. Marty Mercereau (aka Big Dog Mercer) is one of them.

A Wisconsin boy schooled in Chicago blues, Marty has won accolades in Chicago and its' south suburban areas for his guitar play, vocals and band. The CD is on a growing label and for the most part, was recorded live in the studio with no overdubs, so what you hear is what they've got. He proudly claims to have only used Delay and Wah pedals only on one track and that he plugged directly into the amp and played.

Big Dog is on guitar and vocals, Bobby Scumaci is on B3 and piano, John Huet and Doug Horan share the bass duties and Larry "The Animal" Ortega is on drums. The band is focused and tight throughout and the songs are all original and written by Mercer. The band seems to have done their time together and work as a team. The sound is big and driving but not overpowering. Clean riffs and leads, really good backline stuff, and (when featured) the organ and keys are
savory and sweet.

Mercer starts with the semi-biographical "Big Dog's Blues", a hot and romping track with nice piano and guitar solos. He's "been in the doghouse so long" that they now "call me the big dog" won't win him any Pulitzer prizes, but it sure is fun. He bemoans being plagued by a voodoo doll in "Stickin' Pins Into Me," another driving and rocking track with good guitar. The Delay and Wah are not overdone on "Wimmen Trouble" and his vocals also sell this one. "Some Other Fool" gives us some more driving beat and throbbing guitar with some gutsy vocals that remind me a bit of a gruffer styled Warren Haynes. Mercer adds a stinging guitar solo, too. Slow and real down and dirty blues are what we get with "Drinkin' Blues;"nice opening guitar work and we finally get to hear the B3. He sings of the life in taverns and quitting drinking. Well done.

Marty then rocks out a bit with "Prelude", a nice instrumental more in the rock vein. "Helpless" is a bluesy southern rock sounding testimonial where Mercer describes he s helpless and asks God's assistance. The slide reminds me a little of Dickey Betts on this one. He picks up the pace on "It's Because of You, " a somewhat frantic and rocking blues. "Big Dog Will Treat You Right" is more gutsy vocals and driving guitar, and he describes his Big Dog prowess with the "wimmen." Closing up is "Thank You, Jesus," classic slow blues where we get to hear the B3 again where this time they send us to Church. He thanks the Savior for what he's done for the Big Dog. I especially love the big organ solo followed by the guitar solo here.

This is a good CD and a fun listen overall. No bad songs, some really good ones and a nice overall sound. I loved the vocals and guitar and the keys/B3 on 3 tracks were excellent. I enjoyed a taste of the Big Dog's music and I hope to see him live-!
_________________________________________________________________________________________________________

Marty "Big Dog" Mercer has been playing around Chicago for over ten years and has recently released his latest, self-titled, CD. The majority of the record was recorded live in the studio and it certainly captures that feel in an incredibly unique way. Mercer, who wrote the entire ten songs, adeptly handles all the guitar and vocal duties along with Bobby Scumaci on keyboards, Larry Ortega on drums and both John Huet and Doug Horan sharing the bass chores.

The album opens rapidly enough with Big Dog's Blues complimented by some boogie-woogie piano and is followed by one of the standout tracks, Stickin' Pins Into Me. Mercer switches up his bluesy mode into a quick funk style which succeeds on that level as does the next tune, Wimmen Trouble, in which he slows things down with a tough feel and some very nice wah-wah pedal work on the first solo.

A little over midway through the record, we find the band running through the lone instrumental, Prelude. This song reflects Mercer's vocals which are very much like his guitar playing, melodic, yet appropriately gruff at the opportune moments.

The record completes a fine journey with the gospel-influenced Thank You, Jesus
,, complete with Scumaci's Hammond B3 and more of Mercer's contemplative solos.

Big Dog's Blues is an unyielding endeavor from start to finish. It is primarily a heavy album, without being heavy-handed. Mercer and his more than capable band have put together a piece of work that ought to be noted as one of the top local blues records of the past year. It should be interesting to see what they come up with next.

Geoff Trubow
Chicago Blues Guide
2/14/12